Services
Parkway Animal Clinic offers a full range of veterinary services to care for your pet. Learn more about our complete line of services here, and why they are important to maintaining the health and happiness of your pet.

---
General Medicine and Services
At Parkway we are invested in the health and well being of your pet as he or she grows and develops through all the life stages. We have a strong focus on client education and involvement. Our staff has a wide range of experiences and treats every patient with care and compassion. We apply our practical and common sense approach to all aspects of our practice. Below is a brief introduction to the services we offer.
---
Medical
We offer a full range of medical services. Whether your pet is under the weather, dealing with a chronic illness or just needs a wellness exam and vaccines, we are here to help.
---
Dental
Dental health is just as important for your pet as it is for you. Our staff is happy to discuss how to maintain your pet's oral health at home. We also offer oral exams and complete dental cleanings using our ultrasonic scaler and polisher. All dental cleanings are accompanied by a professional fluoride application. This service is available at our Saline location.
---
Surgical
Spaying and neutering, mass removals, ACL repair, Patella repair, emergency procedures and more! We offer a wide range of surgical procedures. Our techs monitor your pet through the duration of any procedure and make every effort to make your pet's recovery as relaxed and easy as possible. This service is available at our Saline location.
---
Laser Therapy
Synergy - Parkway Animal clinic is now offering a low cost alternative for pain management for arthritic patients, acute injuries, post surgery healing and more. The laser uses light waves to aid in the healing process, increase blood flow, and decrease inflammation and pain.
---
Chiropractic Care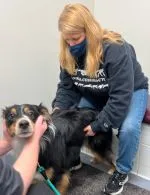 Synergy Animal Hospital offers chiropractic care. Chiropractic is the world's largest non-drug approach to health care. Chiropractic deals with the entire nervous system, not just back problems. The animal Chiropractor adjusts the misaligned vertebrae. Proper function of the nervous and lymphatic system is then restored. In this way Chiropractic addresses the cause of the problem, not just the symptoms.
---
Veterinary Exclusive Specialty Food for Spay and Neutered Pets
We offer veterinary exclusive food specially made for spayed and neutered pets. Post - procedure, hormone shifts result in slower metabolism, meaning pets require fewer daily calories than they did before the procedure. Unfortunately, they also cause an increase in appetite, so pets feel like they want to eat even more than they did pre-procedure, while they actually need to eat even less. The nutritional needs of spayed and neutered pets change for the rest of their lives following their procedure. Our veterinary exclusive food prioritizes energy from animal protein and includes a purposeful blend of fibers. These diets are unique in that they help your pet feel full, while still delivering the right amount of calories and nutrients for spayed and neutered pets.
If your are an existing client and want the food delivered to your house please see the link below:
---
Food Allergy Testing
Chronic ear infections, itchy feet, itchy skin, vomiting, and upset stomach - all of these can be signs of food allergies. We are proud to offer food allergy testing for cats and dogs! Using this diagnostic test we can help you find and remove food allergies from your pets food helping reduce allergy symptoms, helping them feel happy and comfortable again.